If you have an urgent mouse question or need assistance right away, please check the mouse FYI Articles and Links pages for an answer before emailing or posting on the forums. Replies to emails or forum posts may not be quick enough to help, especially in the case of orphaned babies. If you still have questions, please don't hesitate to email me.
Welcome to Bucky Goldstein's G.W. Deer Mouse Ranch
"Hey babe, take a walk on the wild side" - Lou Reed
This site is dedicated to providing information about keeping deer mice, white footed mice and other wild species as pets. Traditional domestic pet mice are also included as well as other things that interest me. There are a number of informational articles and care sheets as well as links to interesting animal sites.
Choctawhatchee Beach Mouse
Peromyscus polionotus allophrys
Habitat:
Sandy dunes above the high-tide line
Location:
Florida
Threats:
Construction of homes and other buildings on beaches; cats
Status:
Listed as endangered under the Endangered Species Act in 1985
Number:
Up to 1,000
Please be considerate of our wild friends and don't remove them from the wild. If the mouse is in distress, such as an orphaned baby or an injured mouse, removal may be appropriate. Mice are social creatures and form family groups that you may disturb if you trap them in their natural environment. You may be separating a mom from her babies, making them orphans that will quickly die.
Please remember that many wild species are threatened or endangered and by removing them from their home range you reduce the population and make it that much more difficult for the species to survive. They may also be protected and by removing them you may be breaking the law. Many endangered mice have very small ranges, maybe a few dozen acres for the entire species. Many of these threatened mice suffer from human encroachment and predation from house cats.
Deer mice are the most populous mammal in North America, but they are only one species in the genus Peromyscus, which contains 55 species. Most of these look very similar, some of them are at risk. The Alabama beach mouse, which can easily be mistaken for a deer mouse, is endangered and protected. Please don't trap in the wild.
The mice on this site were acquired either as distressed mice such as orphans or mice that were humanly trapped within a human residence. Even humane trapping and release can be life threatening for a mouse. You are removing it from its familiar surroundings and relocating it far away from its shelter and food supplies. Care and consideration should be taken when relocating mice. Personally I have no objection to keeping a mouse that was trapped in your house and I doubt that most states would have a legal issue with doing this. Wildlife laws vary by state and most states prohibit removal of wildlife from the wild.
Thank you for visiting. I hope you find your visit both fun and educational.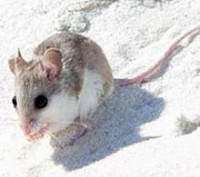 Alabama Beach Mouse
Peromyscus polionotus ammobates
Range:
Portion of Alabama gulf coast.
This small, sandy-colored mouse lives only in coastal sand dune areas and contributes to its coastal dune ecosystem by collecting and distributing seeds. Primarily active at night, beach mice prefer sand-covered slopes with patches of sea oats, beach grass, and other grasses and herbs. Coastal development and roadway construction have placed this mouse on the endangered list, while hurricanes, tropical storms, and dune use by humans bring additional harmscasualties. Because beach mice live only in the dunes just above the high-tide line, rising waters, stronger hurricanes, and increasing storm surges caused by climate change jeopardize this coastal mouse and its habitat.
A list of updates to this site may be viewed on our Site Update History page.
Navigation by WebRing.
Bucky Goldstein's G.W. Deer Mouse Ranch © paul goodman, 2000 - 2013.