Mouse Release Shelter
© paul goodman, 2005 - 2012.
Video © neurozool.
Photos © Joanne from Nova Scotia.
I've had a few requests on how to build a release shelter. This is one I've designed and used. This shelter includes a number of features to aid short term survival until the mice can relocate themselves to more natural accommodations. I recommend this shelter for up to 4 mice. A larger shelter would hold more mice, but may not fit into an aquarium for the mice to enter. This shelter will fit inside a standard 10 gallon aquarium.
MM Shows Off the Wild Mouse Release Shelter
View all of neurozool's videos on YouTube.

Features
2 entries/exits

Provides alternate access/escape if a predator is chasing a mouse or watching an exit.

Covered porches

Provides cover from above when a mouse enters or leaves the shelter.

Alcoves

Make it difficult for a predator to enter or reach into the shelter.

Pantry

Provides food for about a week or more for 4 mice.

Sturdy construction

3/4 inch wood screwed together makes it difficult to break the shelter open and provides protection from the weather.

Materials
1" X 8" Pine board

The actual size of these boards are 3/4" X 7.5". You will need almost 3 feet per shelter. These can usually be purchased in 6 foot or longer lengths. The cost should be about $2.00 for a 6 foot board.

1" X 2" Furring strip

The actual size is 3/4" X 1.5". You will need about 5 feet per shelter. The cost should be around $1.00 for a 6 foot length.

2" Deck screws

These should cost about $4.00 for a box of 100, you will need 31 or more. These screws are self threading, but a small pre-drilled hole helps guide the screw and keeps the wood from splitting.

Tools

You will need a saw, drill with a 3/4 inch wood boring bit and 1/16" or 3/32" drill bit, screw driver and sandpaper. A screw driver bit for the drill and an electric sander will be very helpful.

Instructions
The shelter is constructed using the 1X8 boards at the floor and roof with the furring strip making up the walls. The furring strips should have the short side against the floor and roof providing a 1.5" high living space. Cut the floor and roof to length and sand these pieces. Cut, drill and sand the walls from the furring strip. Make sure the finished pieces all fit together properly. Screw the walls onto the floor using at least 2 screws per wall; this will keep them from shifting. Use 4 screws on the 15" wall and 3 on the 11" wall. Mark the centers of all the walls on the roof so you have a guide for the screws. Use at least 1 screw per wall on this side. Use 5 screws on the 15" wall and 4 on the 11" wall on the roof side. This should provide a very sturdy shelter.
After everything is complete, remove the roof and fill the Living Room with crumpled white unscented toilet paper for nesting material and fill the pantry with food. Replace the roof and place the shelter in the cage or aquarium the night before release. This shelter was designed to fit a 10 gallon aquarium; I'm not sure if it will fit inside a cage. Seal the entrances with duct tape to keep the mice from escaping during transport. Find a suitable release location to place the shelter, remove the duct tape (important), and your done. The mice should find suitable natural shelter in a few days.
To download the drawing for printing, right click on the image and select "Save as" (IE's option is "Save picture as" and Mozilla's option is "Save image as"). After you save the drawing you can print it. I would recommend selection "landscape" as the print format. Make any changes you think appropriate.
These plans could have more detail and I will try to update them as I can. If you have any questions, please feel free to email me: Bucky Goldstein.

Plans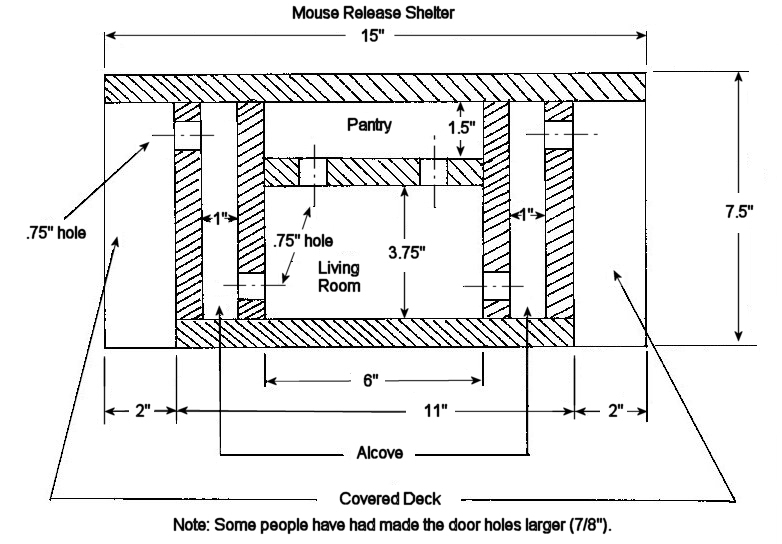 Release Shelter Construction Photos
Joanne from Nova Scotia fostered two baby mice until they were old enough for release. She kindly provided me with photos of the construction process which you can view in the gallery below (just click on a thumb nail to enlarge).
"I don't have a lot of experience building things, so I just did it the easiest way for me. I tackle my stained glass the same way - fitting a piece at a time rather than cutting it all out and trying to fit it together at the end. Less mucking about. LOL."
















Bucky Goldstein's G.W. Deer Mouse Ranch © paul goodman, 2000 - 2013.