Lil' Orphan Annie
© 2002, paul goodman & Deb Krom
Annie was orphaned quite young, but was very fortunate to have been found by Deb Krom in, of all places, a parking lot. This is how Deb tells it.
I referred Deb to a number of sites with information on caring for orphans (see the FYI - Orphaned Babies page for these links) and answered any questions that I could. At this stage Deb didn't know if the mouse was male or female. Even though she had little knowledge of mice, she worked hard for the little girl's life. Since this is Deb's story, it's mostly descriptive email that I received from her during Annie's infancy. I've included my own email only when it helps with readability.
On August 3rd I received this letter:
And this one on the 5th:
By now it looked like the little guy was going to survive and it was time to try and identify what type of mouse he was. I inquired as to what he looked like.
At about 3 weeks old, Annie was ready to take her first real journey.
At about a month old it was time to determine the little mouse's sex.
By now Annie had grown into a healthy adolescent deer mouse. I've heard how Annie in her ball would follow Deb around the house and come when called, or ride in hammocks that Deb would knit to carry her. A far cry from an orphan discovered in a parking lot.
To find out more about Annie, email Deb Krom.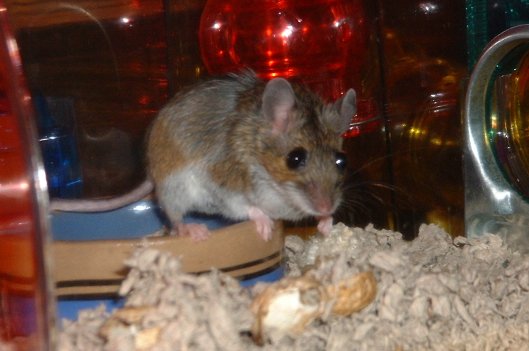 Annie, age 7 months
Bucky Goldstein's G.W. Deer Mouse Ranch © paul goodman, 2000 - 2013.